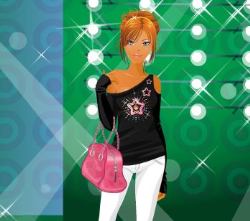 What's with all the dress codes in the clubs now a days? It's ridiculous! It's like saying "We don't trust you ghetto motherfuckers in your own, everyday attire so we will force you to dress like something you are not and just pray to the gods that no one feels like shooting up the damned place!"
It is ridiculous because then you end up with a 27 year old guy who has worked in McDonalds since he was 14 and is now part of the lower echelon of management (I.E. SUPERVISOR!). He makes 9 bucks an hour but when in the club he looks like he makes 100 thousand bucks a year thanks to Marshall's and the poor college student who is grinding on his $5.99 dollar pants doesn't know that later on in the night she will be told to be quiet by the supervisor because his 12 year old brother in the top bunk mught wake up and he doesn't want any more problems with his mom dukes!
These are the "show up at the club drunk" motherfuckers because they can't afford the liquor at the club so we might as well put some money into the liquor store at the hood (I'm guilty of this too but the difference is I ADMIT IT!).
I was at the club last Friday and I even saw my boy dropping of his girlfriend's sister at the club. The fucked up thing is that he is the security guard at the shelter where she lives with her 4 children. WTF?
It's messed up too because if it just happens to be latin night you will see a whole bunch of these ladies hooking up witht he ugliest dudes and it only makes you wonder "What does she see in this dude?" Then it finally clicks when you are in the parking lot looking for your car half drunk and you hear the beautiful voice of one of these fine latin girls ask their newfound hubbies "So, since when have been a citizen?"
Anyways, I have much work to do and little time to do it so I'll let it be for now!